Juice extractors
Get more vitamins, nutrients, and vital energy from fresh fruit, seeds, and vegetables with Estraggo juice extractors. Discover all models.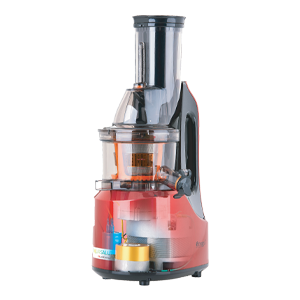 Estraggo Light
Estraggo Light replaces the first slow juicer sold by Siqur Salute, the Estraggo Easy model. Its structure, power, extraction efficiency, and reliability greatly outdo not only the former cold press juicer, but also every other juicer in this price range. Estraggo Light works with a 200-watt induction motor, thereby resulting in a quieter process; it also prevents wear, maintains its powerful action even under great pressure and most of all does not require any maintenance. Another advantage is that Estraggo Light is compatible with the innovative 'Gold Disc' technology, the first ever application energizing juices from fruit and vegetables through life frequencies. Your slow juicer will be UNIQUE!
Estraggo PRO
Estraggo PRO is a product crafted by Italian experience. Its powerful engine and its unmatched juicing efficiency can press out juices from every kind of fruit or vegetable, producing vegetable drinks from cereals, seeds, and sprouts, too. Estraggo PRO is compatible with the Gold Disc Technology and is currently one of the best cold press juicers on the market thanks to its technical specifications and performance. Moreover, the funnel is 75mm wide, making it possible to simply insert fruit and vegetables into the slow juicer without even cutting it - the powerful 240-watt engine, which allows for 2 hours of non-stop juicing, will do the rest. If you are looking to buy a slow juicer online, look no further: Siqur Salute offers one of the best juicers on the market, designed to keep your mind and your body active and healthy.
LifeEnergy PRO
Our new LifeEnergyPRO is the only slow juicer in the world which uses an innovative Swiss technology called the Gold Disc, which energizes the juice through life frequencies and produces an extremely powerful drink. As proved by pictures, juices prepared with LifeEnergy PRO contain a higher level of life energy in comparison with juices prepared with other traditional juicers. When the juice is crystallized, it creates harmonious and well-balanced shapes, thereby clearly demonstrating its superior nutritional value. Choose the power of LifeEnergy PRO: recharge your life energy, keep your body strong and active, and enjoy a creative mind, all throughout your day.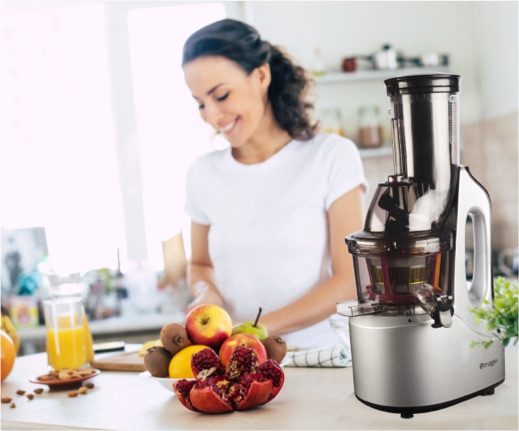 Slow juicers are electronic kitchen appliances designed to promote a healthier diet. Thanks to their cold juicing system, whereby juice is pressed out of fruit and vegetables, they make sure that no important nutrient or component naturally present in food gets lost, for instance vitamins, enzymes, amino acids, minerals, and antioxidants. Contrary to traditional centrifugal juicers, blenders and citrus juicers, professional slow juicers by Siqur Salute press out fresh juice not only from fruit and vegetables, but also from cereals, sprouts, seeds, plants, herbs and much more. A juicer is therefore extremely versatile. Thanks to our slow juicer for fruit and vegetables you will enjoy fresh juices, rich in plant nutrients and antioxidants, that will help your body find its natural balance. Cold-pressed juices produced with our slow juicing machine can be consumed at any moment of the day and are the perfect drink to enjoy with your breakfast, snacks, or as an aperitif, savoring a treat for your pleasure and well-being.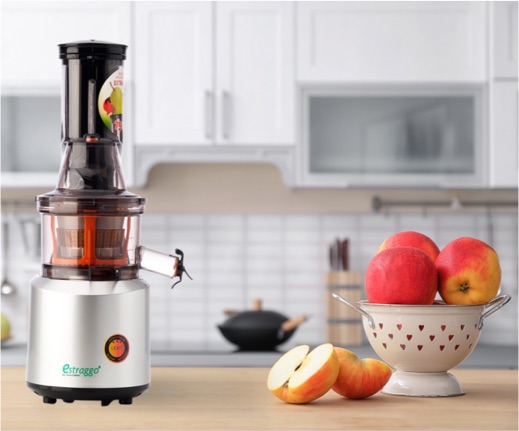 How does the slow juicer work?
Our slow juicer works with a very basic system composed of a screw and a filter: thanks to its powerful engine, the machine separates the fibers from the liquid and produces authentic, pure, and natural juice. The cold press juicers sold by Siqur Salute work slowly and are extremely quiet. The screw is made from Ultem, the same material used by NASA to build space shuttles, and in combination with a powerful 240-watt engine these juicers can not only press out juice from fruit and vegetables but make it possible to easily prepare vegetable milk from nuts and cereals, baby food from fruit, and sorbets, too. The reason why these appliances are called 'cold press juicers' is because the screw turns at a very low speed. As a result, they do not produce heat, do not oxidize food, and preserve all the precious nutrients.