 
home
Estraggo PRO
Available
Not available
Estraggo PRO is a product crafted by Italian experience.
Its powerful engine and its unmatched juicing efficiency can press out juices from every kind of fruit or vegetable, producing vegetable drinks from cereals, seeds, and sprouts, too.
Estraggo PRO is currently one of the best cold press juicers on the market thanks to its technical specifications and performance.
Moreover, the funnel is 75mm wide, making it possible to simply insert fruit and vegetables into the slow juicer without even cutting it - the powerful 240-watt engine, which allows for 2 hours of non-stop juicing, will do the rest.

Purchase this product in installments
Why to choose Estraggo PRO?


MORE JUICING POWER: Estraggo PRO's engine is even more powerful and especially designed to produce high torque (240W, 60 RPM, rotations per minute).
Estraggo PRO's low rotation speed enables a cold extraction system: enjoy natural and healthy juice, with high ORAC value, enzymes, vitamins and all the nutritional properties of fresh fruit and vegetables.


BPA FREE: All of the plastic parts that come in contact with the juice are made from BPA free plastic. In the long run, this che- mical can have detrimental effects, such as enhancing su- sceptibility to breast and prostatic tumors and causing bio- chemical changes in brain, reproductive problems, obesity and neurological disorders.


NEW EXTRALARGE FEED TUBE: The wide feed chute (75mm in diameter) reduces preparation time since you don't need to cut the food into tiny chunks.


ITALIAN EXPERIENCE: Estraggo PRO is the result of the Italian experience of Siqur Salute, the first company to introduce professional slow juicers in Italy.
The powerful motor and the unparalled extraction force will allow you to extract juice from every kind of fruit, vegetable, grass, sprout, as well as vegetable milk from seeds and cereals.
That's not all: with the blank strainer you will enjoy all-natural ice-creams and sorbets, with no cow's milk, eggs or refined sugar needed.


AFTER-SALES SUPPORT: Estraggo PRO has a 2 years warranty, together with our high quality product we offer an effective customer service.
We believe a juicer should be an investment on your health, and like any investment, it should last. Moreover, our wellfurnished store will satisfy your every need!



DETAILS MAKE THE DIFFERENCE: Screw with studs
Estraggo PRO's screw is unique: unlike most juicers, it has studs along the spiral which improve the quality of the extraction. Let's see why in detail:
It allows a better grinding of hard fruit and vegetables (such as carrots, red beets etc.)

It especially improves the grinding of long-leafed veggies, and of peels like those of apples and pears, preventing them from adhering to the screw and obturing the strainer holes.

It helps drawing down the ingredients so that the fiber is expelled evenly, avoiding blockage.

It's fundamental when making milk from seeds such as rice and oath as it prevents lumps.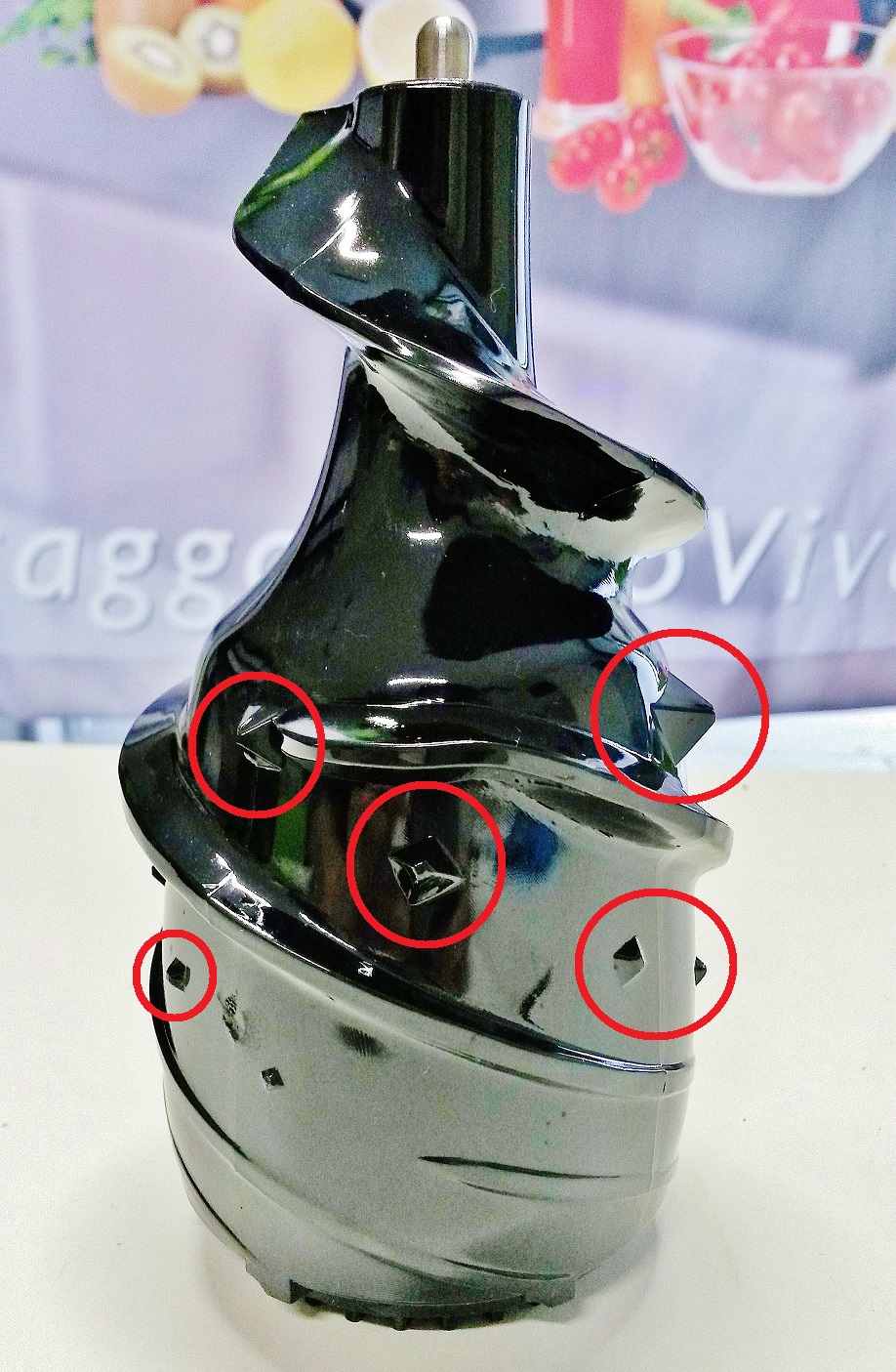 DETAILS MAKE THE DIFFERENCE: The motor

As many already know, juicers' motors can be AC (induction) or DC (with or without brushes).
The difference is important, because AC motors are way more powerful, reliable, longlasting, and as a consequence costly, of DC motors.
AC motors can be furtherly distinguished for power, commonly 150W or 240W (the latter offers a double extraction power) and for the quality of the materials.
In most cases parts of the gearmotor are in plastic, so they are easily broken or worn with time.