Crushers
Have you always wanted to make oil at home? Today with our home oil mills is possible. Discover the models to prepare excellent vegetable oils from oilseeds directly at your home.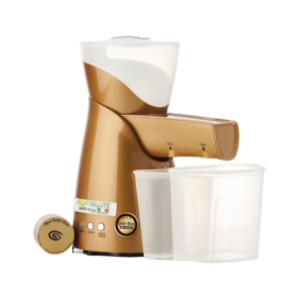 LifeEnergy OIL
Our new LifeEnergy OIL is the only oil extraction machine in the world to use an innovative Swiss technology which has been leading the energy sector in the last 30 years: the Gold Disc technology. This technology is the first ever application which energizes oils produced from seeds and dried fruit through life frequencies, amplifying the nutritional value of freshly produced oil.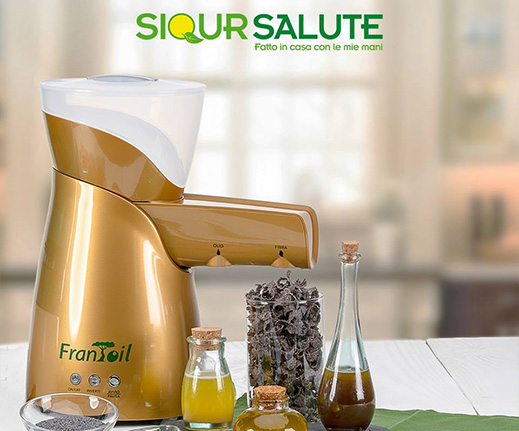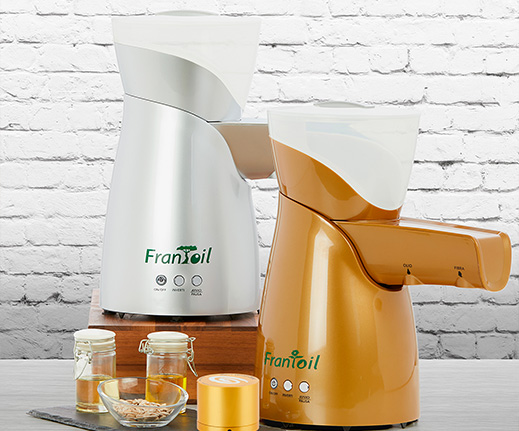 Frantoil
Frantoil is a domestic oil press designed to produce natural, unoxidized and unrefined oils from oil seeds such as chia, sunflower, or hemp seeds, but also dried fruit such as walnuts, almonds, or hazelnuts. This innovative home oil press from Siqur Salute is a new appliance which will allow you to produce natural oil from scratch, using whatever variety of seed you prefer, and get freshly pressed oil for your salads, your sauces, or seasonings, but also for cosmetic purposes. In short, thanks to our oil extraction machine you will be able to produce oil yourself and experiment with all your favorite oils from the comfort of your own kitchen.
How does the oil press work?
Frantoil is basically an oil extraction machine designed for home use, which transports the seeds on a hopper towards a container; this part of the machine is equipped with a very simple screw, which rotates and separates oil from fibers. Just like all the other products from Siqur Salute, our domestic oil press works quietly and slowly, and your oil will never be heated beyond 36 C. This maintains the nutritional value of your freshly produced oil, and protects all its vitamins, enzymes, Omega 3 and 6. Once the seeds are in place, you can turn on the appliance: the oil will then be filtered and flow into its own container, whereas the fiber will end up in another container, exactly like in a juicer.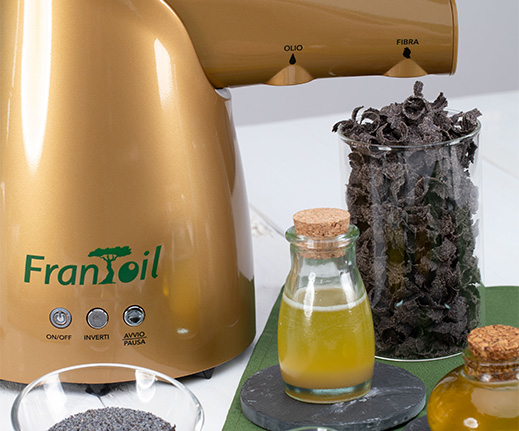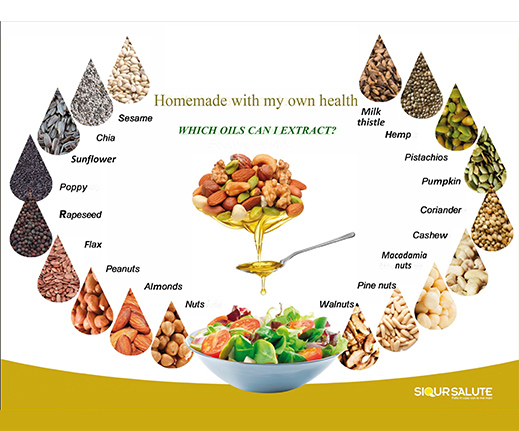 How to produce oil with our home oil extraction machine
Thanks to our oil press, you will be able to enjoy home-made oil from a wide variety of oilseeds, such as:
Sesame seeds, flax seeds, sunflower seeds, raspberries, blackberry, milk thistle, poppy seeds, chia seeds, hemp seeds, cardamom, pumpkin seeds, and many more.
Dried fruit such as almonds, walnuts, hazelnuts, pine seeds, macadamia nuts, Brazil nuts, peanuts, and pistachios.
Bush seeds like tamarind, pistacia lentiscus and others.
One important aspect to keep in mind, however, is that not all seeds produce the same oil quantity. If, for instance, 100 grams of flax seeds can yield around 45 ml of oil, 100 grams of walnuts will instead yield up to 75 ml. If you are wondering whether you could make your own olive oil with Frantoil, that is unfortunately not possible. Our small-sized oil extraction machine is not suitable for olive oil production, as the process would require a completely different extraction procedure from the one used for seeds. We also advise against using fresh fruit or berries. Our oil extraction machine should not be considered as an alternative to our slow juicers.
The advantages of extracting oil from seeds in your own kitchen
Thanks to our oil extraction machine, you will enjoy unrefined oil, free from added chemicals; its flavor is significantly richer in comparison with commercial oils. Its cold process means the nutritional value is preserved, as well as the content of vitamins, enzymes, omega 3 and 6.