 
life-energy
LifeEnergy OIL
Available
Not available
LifeEnergy OIL is a domestic oil mill that allows you to extract natural, non-oxidized and refined oils from oilseeds such as chia seeds, sunflower seeds, hemp seeds and dried fruits such as nuts, almonds and hazelnuts.
The seed oil extractor proposed by Estraggo is a last generation oil mill that allows you to prepare at home 100% natural oils from a large amount of seeds, to be used for seasoning salads, to prepare original sauces and condiments and why not, also to prepare ideal oils to make a cosmetic and relaxing use. NO OLIVE.
Purchase this product in installments
Why LifeEnergy OIL is the best oil press machine in the market ?


AISI 304 stainless steel auger

: LifeEnergy OIL is equipped with a tank that conveys the seeds to the extraction arm, consisting of a screw that rotates in a cylindrical seat.
These elements are made of AISI 304 surgical chain, for maximum reliability over time.


In addition, the plastics that make up the hopper are BPA free therefore free from toxic substances that in the long run can promote carcinomas, obesity and neurological disorders.




Self-cleaning: The extractor is self-cleaning: you do not need to clean it as long as it is used daily.
If the extractor remains stationary for several days, it is advisable to clean the mechanical arm, easily implemented thanks to the practical toothbrush supplied as shown in the video below.
The only trick to follow is to never stop the machine before it has not completely discharged the fiber.
Once the oil extraction is finished, it is therefore advisable to wait two minutes until the start button is flashing.
Then it will be possible to perform another extraction safely.


GOLD DISC TECHNOLOGY: The oil extracted with LifeEnergy OIL has been found to be the one with the highest energy value of any other, for the very high enzymatic activity generated by the powerful vital frequencies emitted by the "Gold Disc" inserted in it.
For these peculiar characteristics this extractor is today unique in the world in the highest end of the market, for the technical and performance qualities and especially for the nutraceutical value of the extracted oil.



LATEST GENERATION OIL PRESS MACHINE

: LifeEnergy OIL is a latest generation domestic oil mill that allows you to produce natural oils, non-oxidized and refined from oilseeds such as chia seeds, sunflower seeds, hemp seeds and nuts such as nuts, almonds and hazelnuts and shrub seeds, such as tamarind, mastic, beech and more.
DOES NOT MAKE OLIVE OIL


HIGH EXTRACTION YIELD: LifeEnergy OIL, thanks to a rotating screw in AISI 304 surgical steel, separates the oil from the fiber of the seeds and operates according to the principles of cold extraction.
Thanks to these specifications, the extraction yield is the highest on the market: starting from 15% for mastic and avocado, 30% for cocoa beans, sunflower, peanuts and flax, 40% for pumpkin, walnuts and sesame and up to 60% for coconut.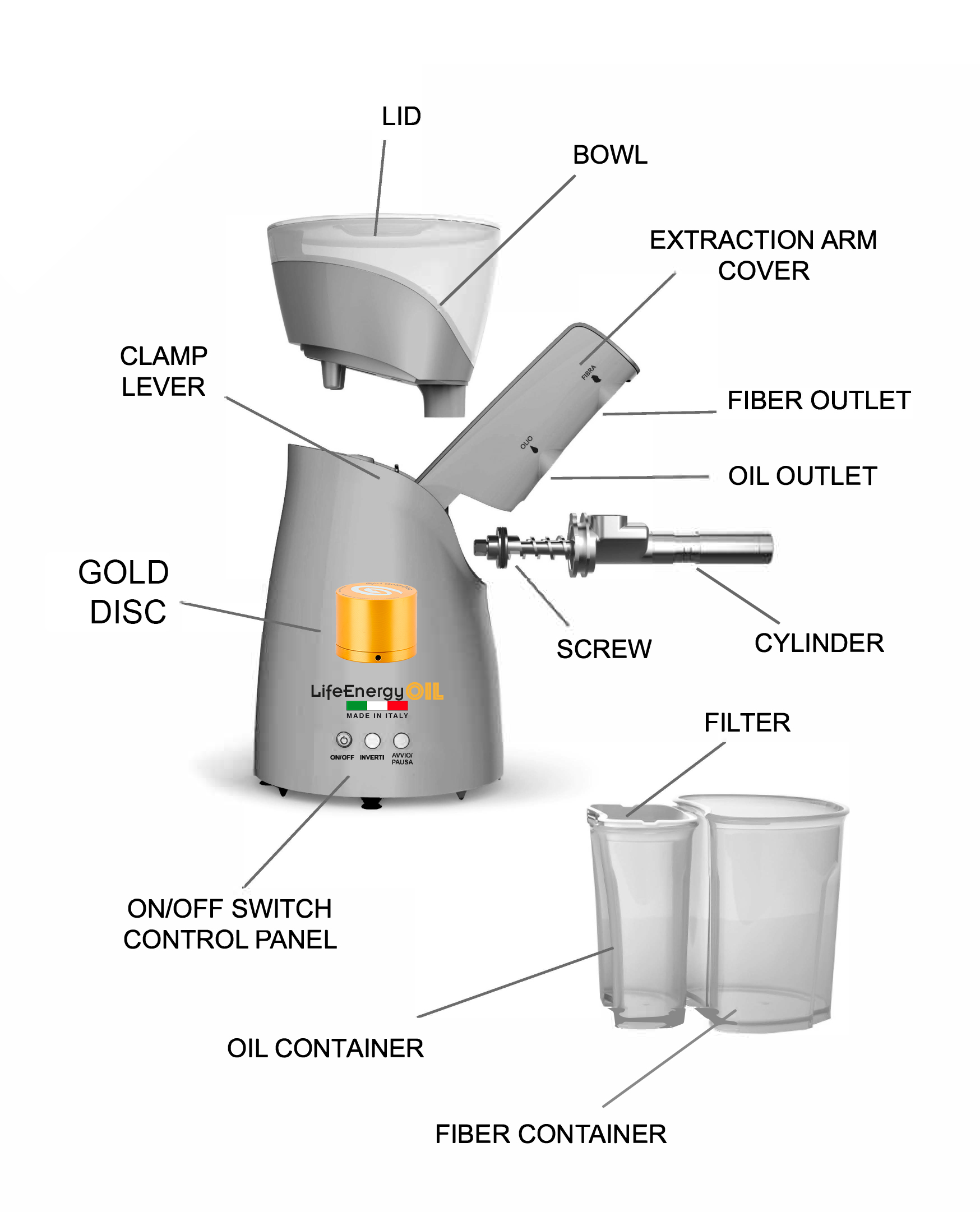 How does cold press oil machine work?


LifeEnergy OIL is a homemade oil extractor that thanks to a hopper conveys the seeds to a case, inside which there is an elementary device: the screw, a rotating screw in AISI 304 surgical steel that separates the oil from the fiber of the seeds.

Like the other products by Estraggo, our DIY oil mill also works slowly and quietly, allowing a cold extraction that does not exceed 36 degrees.
In this way all nutritional values such as vitamins, enzymes, Omega 3 and 6 remain unchanged.

Once the seeds are placed in the mouth (maximum capacity of the hopper 500 gr extractable in 12 minutes) it is necessary to operate the appliance; the oil will be filtered and collected in a special pan, while in another container will be deposited waste fiber, just like with juice extractors.
Also included is a kitchen glove and toothbrush for cleaning.


What can I extract with LifeEnergy OIL?

With our oil mill you can get oil really from a wide range of oilseeds including:
Sesame seeds, flax, sunflower (decorticated), raspberry, blackberry, milk thistle, poppy, chia, hemp, cardamom, pumpkin and many more.
Dried fruits such as almonds, walnuts, hazelnuts, pine nuts, macadamia nuts, brazil nuts, peanuts and pistachios.
Shrub seeds such as tamarind, mastic, beech and more.

However, it should be remembered that not all seeds produce the same amount of oil.
The oil yield varies greatly depending on the type of seed and the degree of dryness: the drier the seeds, the greater the yield.
Here are some indicative figures:
Sesame: oil content 40-45% (e.g. with 500g of sesame seeds about 230g of oil)
Peanuts: 40% oil content (e.g. with 500g of peanuts about 210g of oil)
Sunflower: oil content 30-40% (e.g. with 500g of sunflower seeds about 200 g of oil)
Flax: 25-30% oily content (e.g. with 500g of flaxseed about 190 g of oil)
Nuts: 35-40% oily content (e.g. with 500g of nuts about 175 g of oil)
Hemp: 25% oily content (e.g. with 500g of whole hemp seeds about 170 g of oil)
Poppy: 25% oily content (e.g. with 500g of poppy seeds about 180 g of oil)
Chia: oil content 20-25% (e.g. with 500g of chia seeds about 170 g of oil)
Almonds: 25% oily content (e.g. with 500g of almonds about 170 g of oil)
Canola: 25% oily content (e.g. with 500g of canola seeds about 160 g of oil)
Milk thistle: 20-25% oily content (e.g. with 500g of milk thistle seeds about 160 g of oil)
Pumpkin: 35-40% oily content (e.g. with 500g of pumpkin seeds about 200 g of oil)
Coriander: 20% oily content (e.g. with 500g of canola seeds about 130 g of oil)
Soybean: 10% oily content (e.g. with 500g of soybeans about 80g of oil)
Mastic: 15% oily content (e.g. with 500g of lentisk seeds about 75 g of oil)


On the contrary, if you are wondering if it is possible to obtain olive oil with LifeEnergy OIL, the answer to your question is negative.
With the mini DIY oil mill of Estraggo it is not possible to extract oil from olives because this process would require an extraction process completely different from the one used for the extraction of oil from seeds.
It is also not recommended to use fresh fruit and berries.
The oil extractor should not be considered a substitute for the juice extractor.

What makes LifeEnergy OIL different from other oil extractors?
LifeEnergy OIL is the only oil extractor in the world equipped with the innovative Gold Disc technology.

It is a device, placed close to the engine, that through a set of particular and informed crystals called Magma 13, generates a powerful biocompatible vibrational frequency that is transferred to the oil.

In this way, on the one hand, the oil extracted is protected from the harmful electromagnetic frequencies generated by the action of the engine and on the other, it is loaded with vital energy, increases its enzymatic activity and turns it into a superfood.

This effect has been certain from the photos, obtained by having an electron microscope analyze a drop of oil previously crystallized with the method of the Japanese scientist Masaru Emoto.


Certified by VisionLab
One of the most renowned research laboratories in Zurich carried out microscopic analysis of the crystallization of an oil juice extracted first without and then with the Gold Disc and obtained two different frames shown in the image above.

The form the oil takes is an indication of the vital energy contained in the extract and this shape changes radically depending on whether the extract was produced by an extractor equipped with Gold Disc or not.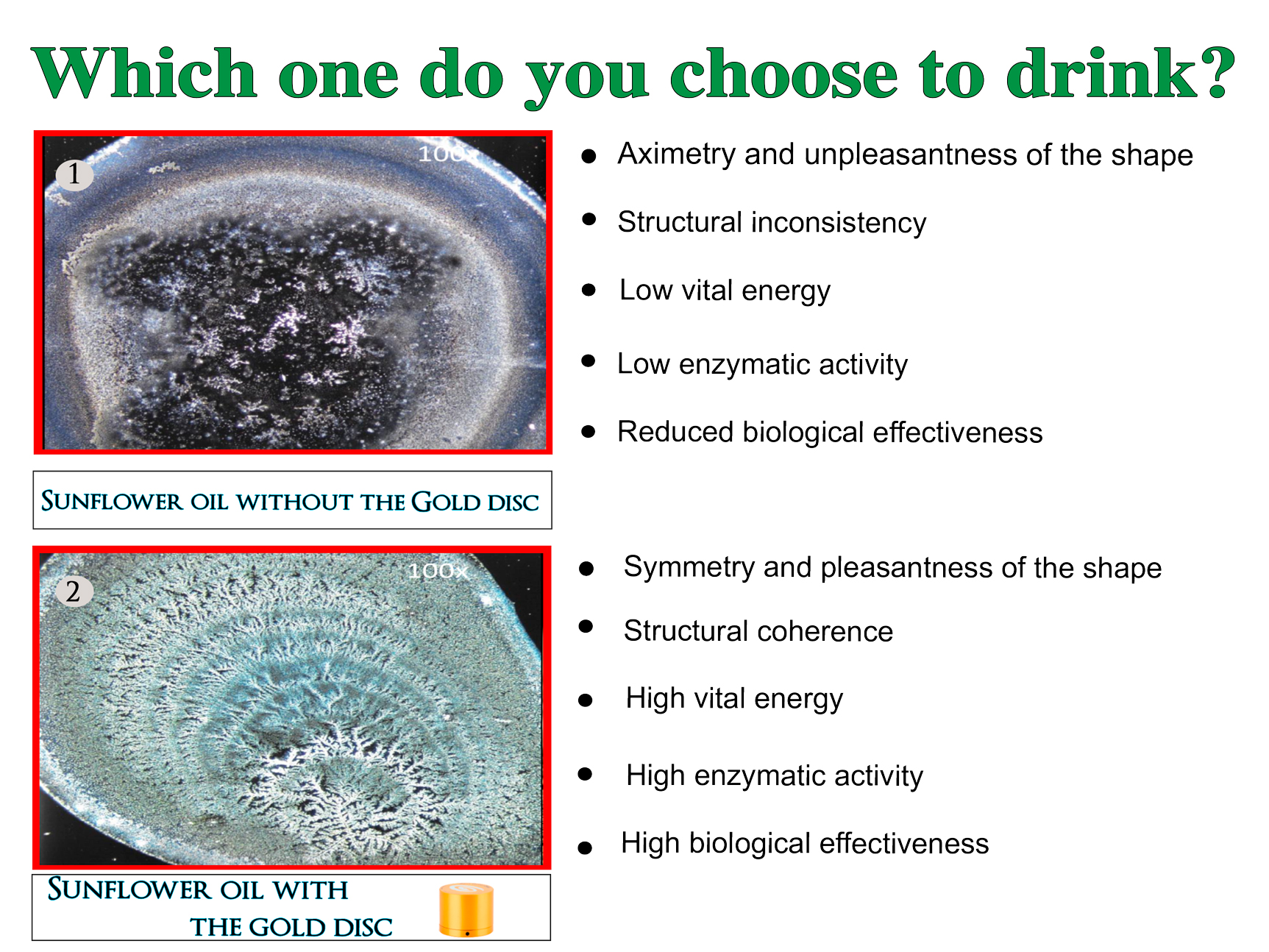 The Advantages of Preparing Oil At Home with LifeEnergy OIL Seed Press machine


The great advantage of cold oil extraction with LifeEnergy OIL is that the oil produced is an intact oil, not oxidized and with all the content of essential nutrients such as enzymes, vitamins, minerals and trace elements, completely unaltered and 100% bioavailable.
Any type of oil is in fact subject to a strong and rapid oxidation over time, which begins just 15 minutes after extraction and which leads to the degradation of all the nutritional components.
For this reason the oils extracted with LifeEnergy OIL have organoleptic qualities far superior to any oil stored in the bottle.
This also reflects on the taste: smelling and tasting for the first time the oil just extracted with LifeEnergy OIL, you will immediately notice what an intact oil means!


Crunchy fiber for top breakfasts
By activating the extractor, in addition to the oil, you will immediately get fresh and crunchy fiber, to add to milk, yogurt or coffee for breakfast or to consume as it is!
From the fiber you can get the finest flour to use to make cakes, bread, dumplings and much more!


Warranty and after-sales service
With LifeEnergy OIL you can rest assured: 2 Years warranty on everything!
A high quality product, can only offer quality guarantees and assistance, to fully meet your investment in health.
And if you have any questions don't hesitate! Our telephone service is always ready to help you and give you suggestions on the use of the oil extractor, while our fully equipped warehouse will be able to cope with any request for spare parts!
Power:

550 W
Size:

30 x 18 x 35 cm
Weight:

5,5 KG
Voltage:

220V-50HZ
Warranty:

3 Anni
English instruction manual:

Yes
Assistance and over-the-phone consultancy:

Yes
Extraction auger:

Surgical grade stainless steel AISI 304
MADE IN ITALY:

Yes
Assicurazione:

si